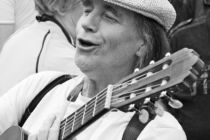 Whenever Sergio is alone on stage just with his guitar, you can expect him to sing a wide range of songs.
He chooses to play the songs he feels like playing just at that moment, thus creating a very personal concert line-up with songs from all of his creative periods: Songs from the beginnings of his creative work, when he was a singing poet in the dungeons of a dictatorial regime; songs of today, as a singing poet in the streets of a south German town; But also some compositions to go with the works of living or dead poets. And a lot of love songs, songs about being a stranger, about arriving somewhere as a stranger and about settling in.
Sergio Vesely will play at the Amnesty bar at "Die Note" bar from 9pm on Saturday night.